Digitalisation and upscaling of the Fujifilm Challenge
Facts & Main Elements
10 week 110 hours (4 ECTS)
222 Bachelor & Master students
5 academic partners (40 staff)
1 business partner (29 staff)
co-creation with Fujifilm's open innovation hub to develop new sustainable business models with Fujifilm's technologies
substantial award: trip to Barcelona
3 plenary sessions: kick-off, midterm, endgame
weekly coaching - progress monitoring
international interdisciplinary teams
per team: 2 video pitches (team, solution) and 2 business models (initial, validated)
research: impact of entrepreneurial traits and innovators DNA on new venture creation
What's new?
Lower drop-out ratio of student teams (coaching)
Improved innovativeness of ideas (training, tools)
More in-depth analysis of the business ideas
Learning communities
larger international scale
digital format
new tools (checklists, templates, progress monitor)
Assessment (scales 0-10)
Interest > complexity:

Ideation (8.0 > 5.2)
Customer development (7.1 > 5.1)
Team (8.1 > 6.9)

Commitment: 8.4
Overall rating: 8.1
Recommend to others  94.4%
Main outcomes
47 new business ideas
new detailed organizational playbook, new scripts,
templates of business models,
checklists of ideation and customer validation
students developed their innovative skills in a real high-tech setting
Lessons learned & Future plans
commitment and team processes are a strongest predictors of new venture performance
more attention towards team building, before program
more (formalized) coaching
intensify communication
supply content on demand: substitute the plenary sessions to small instruction modules (videos + exercises)
focus on highly entrepreneurial / highly motivated students => motivation interviews
more team diversity and larger scale adds to impact (business/tech/creative disciplines, nationalities)
DIGITAL TOOLS & EXAMPLES
Examples of team presentation videos; Team Mixed brains (2019) and Team "The Catchers" (2019)
Example end product pitch (edible packaging)
INSTRUCTION VIDEOS
How to become successful in an intercultural virtual team: instruction & tools about "culture map" and cultural competences
Phase 1: Orientation (and the entire program): aims, activities & deliverables for the Fujifilm Future Challenge
Fujifilm: past-present & future (e.g. core technologies) - Michiel de Hair – Manager Open Innovation Hub.
How to use the "Solution explorer" digital brainstorm & collaboration tool
Phase 2: PROBLEM – creativity tools - shifting perspectives, analogies, divergence phase
Phase 3: SOLUTION – creativity tools: Value Equation tool, convergence phase
Phase 4, 5, 6: VALIDATION, FEASIBILITY & PITCH: customer development tools
More information: Dr. Frans Stel (stel@createnewbusiness.com)
Student/Business Exchange: Fujifilm Future Challenge 2020
 Create your own sustainable solutions. Fujifilm has a mission to improve the quality of life for people worldwide. Fujifilm is the world's largest photographic and imaging company. It is less well known that they are leading innovators in the fields of bio-engineering, energy & environment, medicine and membranes. Now,  Fujifilm focusses on (1) Functional Materials, e.g. - materials that can be used in the development of membranes for the generation of Hydrogen in energy storage, water purification and carbon capturing); and (2) the  Healthcare Industry, e.g.- diagnostic MRI or endoscopy equipment, stem cell technology, new drugs and cell and tissue culturing. Those technologies can be used in applications to treat diseases like skin burns, renew knee cartilage or even to regenerate heart cells.
 Why participate? It's a unique opportunity to work with a leading tech company and test your own ability to come up with competitive, sustainable and validated innovations while competing with like-minded students from countries in this event.
 The challenge. To develop new product applications for Fujifilm and test these in the market. You have access to technical specialists at Fujifilm and will be coached to develop ideas, spot opportunities and test these in the market for an international company. The goal: to co-create with Fujifilm to develop new sustainable business.
The prize. The best team will be awarded and will win an all-expenses-paid trip to Barcelona including a visit to the Fujifilm European top management.
 Who participate? Students from academic and applied universities in the Netherlands, Belgium, Germany and Sweden.
What are you going to do? During the Fujifilm Challenge 2020 you are challenged to develop and test radical new ideas which may fit to the new focus areas of Fujifilm. You learn to work with new technologies.  In five weeks, you develop your new business ideas based on new creativity tools. You meet with all participating teams and Fujifilm gives you direct feedback. Weekly, a coach is guiding you. You prepare 2 videos, 2 business model canvasses and a poster presentation. Finally, you pitch your business to an expert jury.  Invent the future and bring your own solutions to big problems. All activities can be executed virtually (even plenary sessions).
More info:  For more examples of the new products and technologies visit: Innovation at Fujifilm.
Questions? Mail Frans Stel stel@createnewbusiness.com
You can find the program of the Fujifilm Challenge 2020 here.
---
Winning sustainable healthcare ideas
During the finale 5th edition of the Fujifilm Future Challenge, 11 student teams presented their ideas to solve global healthcare, and sustainable problems. Congratulations to all winning teams!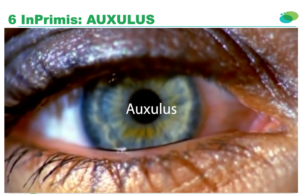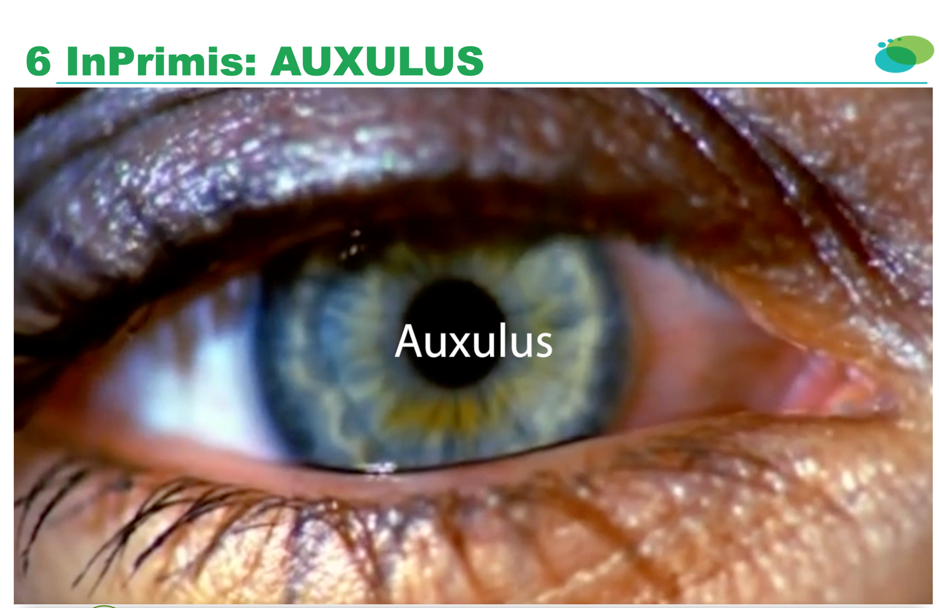 Team "InPrimis" of Avans School of International Studies (ASIS) and Linköping University was awarded by the jury. Their idea is to develop a sophisticated contact lens which helps people who are oversensitive to light and certain colors and intensity of light. InPrimis coined their idea "AUXULUS". They won the Fujifilm Future Challenge: a trip to Barcelona. In addition, based on the assessment of the audience, they won and the Scale-up for Sustainability Originality Award.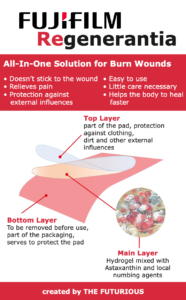 The Belgian team "Futureous" from Thomas More Hogeschool pitched their "REGENERANTIA" idea to develop a patch with artificial astaxanthin, a pain killer and anti-itching integrated for the treatment of patients with burns. Both very good examples of products solving societal issues by using Fujifilm technology. Team "Futureous" won the audience S4S-award with the best total score on novelty, feasibility and sustainability.
The most sustainable and feasible plan was developed by the the international team "Virtual Brainz", with their idea of Cooltrash Waste collection, the 3rd S4S-award winning team. The Virtual Brainz team consisted of two students from Tilburg University and the University of Oldenburg, Merel and Tim.
Due to the Corona-virus, the 5th edition was organized fully online. Fifty students from 4 countries and various backgrounds (technical, creative, business) participated. Some teams consisted of students from different universities and met each other only virtually.  The Fujifilm Future Challenge (FFC) is a co-creation between industry and academia, a learning community about international entrepreneurship. In the Fujifilm Future Challenge 2020, several virtual plenary tool-sessions were in included as well as meetings between team members and their coaches about ideation and customer validation. In 10 weeks, international teams have developed innovative & feasible "green" business models and tested these at real customers.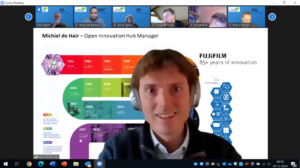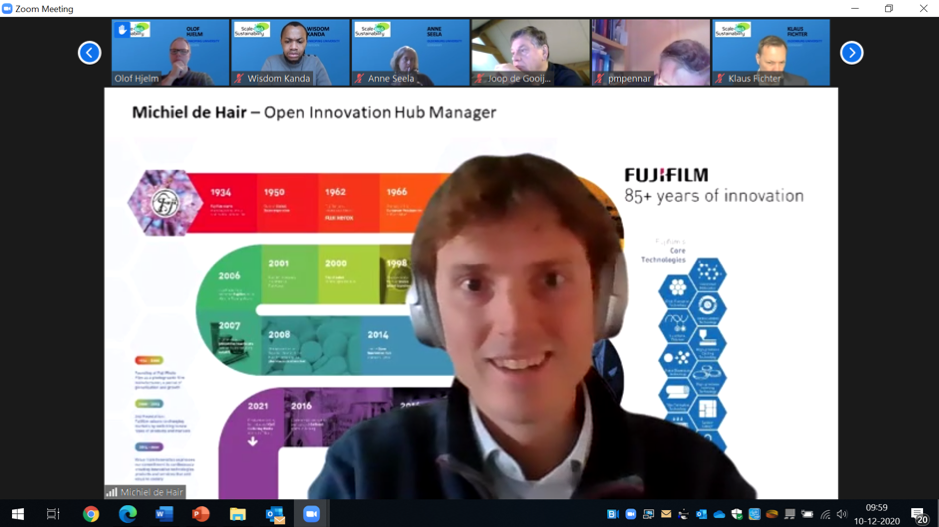 The student teams have been supported by technical experts from Fujifilm, Michiel de Hair, manager of the Open Innovation hub, and his colleagues.
A lot of thanks to my co-organizer Rogier de Jong. All participants: thanks for your enthousiasm and creativity!  Coaches Marc Clerkx, Bart Kapteijns, James Small, Rogier de Jong, Wisdom Kanda, and Anne Seela: thanks for your commitment and useful advices.  Thanks also for the members of the jury  Olof Hjelm, Klaus Fichter, Matthias Hausmann, and Joop de Gooijert.