In short 'elevator pitch' testimonials  some partners gave their personal highlights of the Scaleup-for-sustainability project: their main highlights, key eye openers,  and the most surprising elements. They also mentioned what they liked most and what they are proud of.
Testimonials of Business Partners
Matthias Hausman (CEWE, Germany)
Michiel de Hair (Fujifilm Europe, The Netherlands)
Joakim Wren (Againity, Sweden)
Yvonne Burmann (Büfa, Germany)
Giulia Viero (ECOR, The Netherlands)
Testimonials of Academic Partners
Klaus Fichter (University of Oldenburg, Germany)
Olof Hjelm (University of Linköping, Sweden)
Frans Stel (Vennebroek Academic Services / University of Twente, The Netherlands) 
---
Platform launched
The ScaleUp4Sustainability consortium developed the Sustainable Venturing Challenges platform. Its aim is to activate academic staff, companiesand students to tap into the potential of challenge-based learning and co-create sustainable business solutions – across sectors, disciplines, cultures and geographic boundaries.
To this end, the platform pinpoints open opportunities for collaboration in sustainable venturing. It also presents relevant information to get started with joining or creating a sustainable venturing challenge. Specifically, university educators, companies and students will find:
an emerging database of challenge platforms, matchmakers and alliances that makes it easy to quickly find and connect to either challenge providers or challenge solvers,
challenge profiles with information about innovative challenge-based student-business programmes and activities in sustainable venturing,
interviews with academic staff, business leaders and university students who share their real-life experiences of co-creating sustainable solutions for real-world problems,
a range of resources, including information on benefits of participating in and developing challenges, how to-guides and tools.
You can find the platform here.
Good news: new follow-up project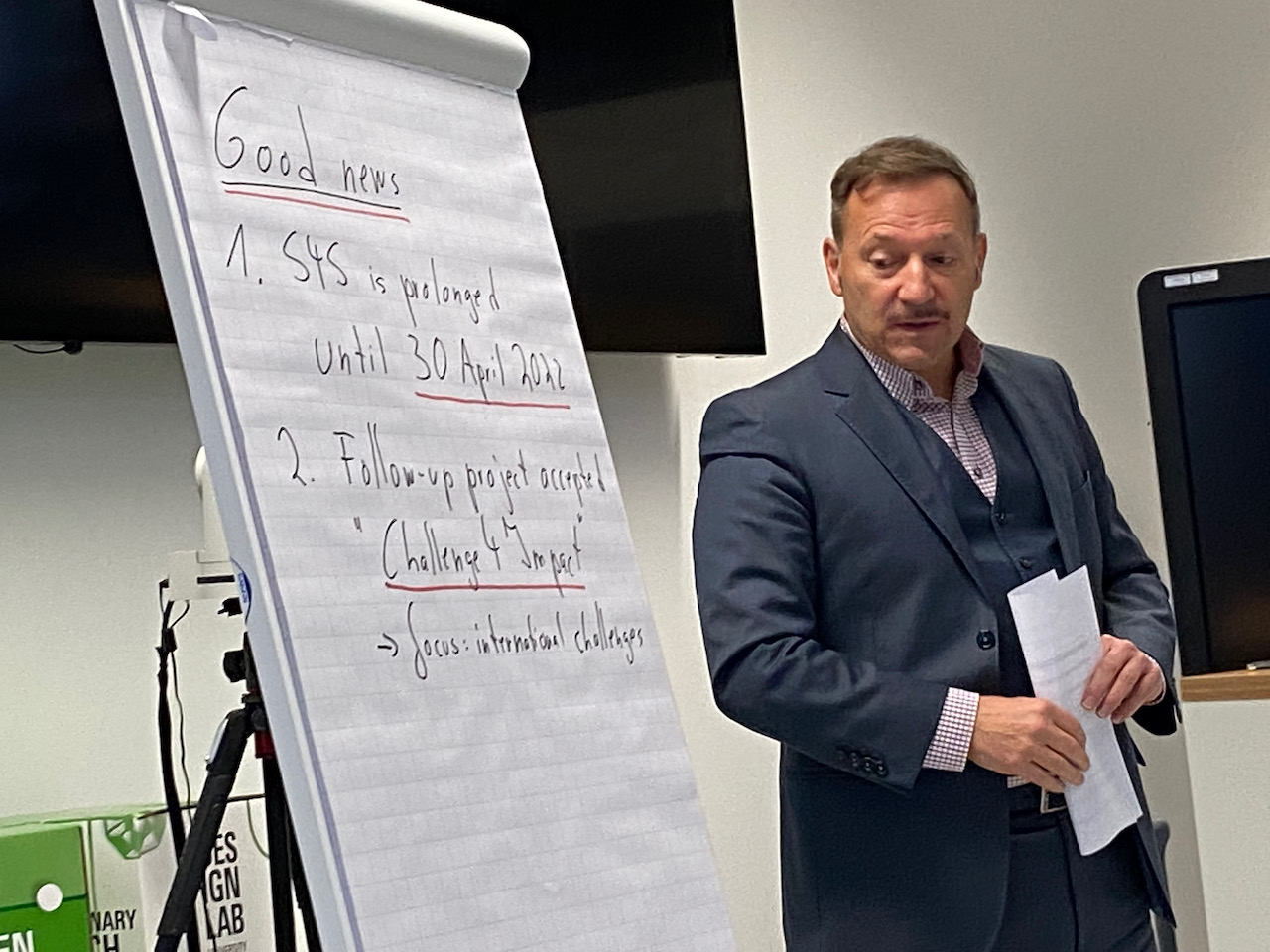 Due to Corona, the duration of the S4S-project has been extended. In addition, a new follow-up projects has been granted: "Challenge for Impact (C4I)". In this project, the academic partners continue and expand their collaboration in the next years. The focus of the new C4I-project is on international challenge-based learning programs.
---
Conference in Enschede (NL): "Results & future plans"
On 13/15 October, 2021, we organised a conference at the green hub of Twente University to discuss the results of the S4S-project and our future plans.
You can find the report of findings here.
---
Challenge-based learning
On 1 September, 2021, we organised an online workshop to exchange experiences concerning challenge based learning. You can find our findings here.
---
International Circular Challenge 2021
On 5 July 2021, we organized an on campus Circular Challenge. Some twenty students and business representatives from India, Botswana, Kenia, Italy, USA and the Netherlands collaborated to develop new ideas to improve the circular business models of two start-up companies.  Two companies (ECOR and IMPULSE ) presented their challenges. Teams developed new innovative & feasible solutions and presented these to an expert jury.
You can find more information here.
---
Workshops at ISPIM 2021 conference
At the virtual ISPIM Innovation Conference 2021 , 20-23 June 2021, some 550 researchers, managers, business and thought leaders shared their insights on innovation management. We discussed hot-topics:  values-based, sustainability-oriented innovation, digitalization, new business models, ecosystems etc.
On 22 June, we organized two interactive workshops on co-creation: one on our experiences with long-term and special topics challenges, and one on new horizons of student/business challenge-formats for sustainable impact.
In break-out rooms, the contributors discussed with professors, researchers, consultants and managers from Germany, Norway, Sweden, the UK and Australia.
You can find more information here.
---
Ecosystems as enablers of upcaling upcycling
Many companies use a business ecosystem to enable upscaling of their activities. To boost the impact of sustainability business models, identify opportunities and develop capabilities. Upcycling is increasing the added value of waste streams. Partners can play an important role. Even for companies that have moved from start-up to scale-up, the quality of their ecosystems, support systems, are essential for their success. In a research project, we focused on sustainable ecosystems in which societal and environmental contexts were studied.
You can find more information here.
---
Negotiation festival
On April 23th, 88 students, managers and professors from several parts of the world developed and discussed their negotiation skills. It was a truly global event: Europeans (from the Netherlands, Germany, Spain, France, Italy, Scotland, and Eastern Europe) collaborated in virtual teams with Asians (Indonesian, Japanese) and Americans. Results of research concerning negotiation performance were presented, business managers highlighted their cross-cultural negotiation experiences. A negotiation expert reflected upon these. Two HR-Managers gave their do's and don'ts tips of recruitment. In an alliance game, the participants exercised the selection process of international business partners.  Ultimately, we discussed success & failure factors of starting a business alliance.
You can find more information here
---
European Sustainable Innovation Contest
The winning teams from the programs "Environmentally driven Business Development,  "Fujifilm Future Challenge"  and "Ecoventuring"  presented and discussed their sustainable solutions with each other on 4 March 2021.
You can find more information here.
---
Women4Women
On the International Day of Women and Girls in Science, FUJIFILM Europe GmbH  proudly presented the second issue of Women4Women in collaboration with female scientists across the world to showcase their amazing stories.
Also in this magazine an article about the Open Innovation Hub Europe and the Fujifilm Future Challenge. Kelly Chan and Luiza Cumpanasu from Avans University of Applied Sciences in Breda, the Netherlands, share their story of winning the 5th (online) edition of this Fujifilm Student Challenge.
You can read the magazine here.
Kelly and Luiza had some doubts whether they had enough entrepreneurial mindsets. Nevertheless, they developed a winning product idea named "Auxulus", smart contact lenses for people with high light-sensitivity. Inspired by the Netflix series Atypical, they developed and tested in a very international team their business idea.
Kelly: "it was my first working in a team full of ambitious and highly motivated people. It was a great learning opportunity. We bonded and helped each other grow in other ways as well. We all learned a lot about teamwork and how to develop essential skills in the business such as market research, data analytics and entrepreneurship". The online character of the challenge made the team -according to Kelly - even stronger.
Here you can find the video of Auxulus
---
Erasmus Days
At October 16th, we presented concepts, results and experiences of student-business collaboration in green venturing of the ScaleUp4Sustainability (S4S) project in Germany, Sweden, and The Netherlands. See press release.
---
Circular Challenge
At September 11th and 12th, students from Sweden, Germanyand The Netherlands collaborated in five international virtual teams to develop new ideas to improve the circular business models. See press release.
You can find the hand-outs below
Spin-up Innovation Summit 2020.
May 2020 – The Netherlands. On 20 May, Scale-up4Sustainability (S4S) business partner ECOR participated in the online spin-up innovation summit 2020.   Watch  her presentation here.